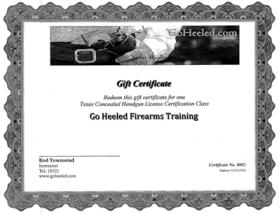 Go Heeled Gift Certificate
Looking for a unique gift? Give them a gift certificate for a License To Carry Class!
Click here to purchase online.
Select "Gift Certificate" and "No Date – Gift Certificate". We will contact you to arrange delivery.
Gift Certificates are good for any of our public classes for one year from the date of purchase.