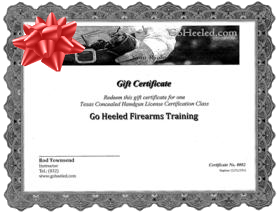 Holiday Special: $59 Go Heeled Gift Certificates
Looking for a unique gift? Give them a gift certificate for a License To Carry Class!
$20 off the regular price.
Click here to purchase online.
Select "Gift Certificate (Sale) $59" and "No Date – Gift Certificate". We will contact you to arrange delivery.
Gift Certificates are good for one full year and can be redeemed at any of our 2019 public classes.  Sale price good through 12/23/2018.